Summer pastime activities – tourism-cycling and interest in surrounding
The village Kořenov has lots of tourist paths and also on marked roads paths for cycling. You can know whole Jizera mountain only by foot or by bycicle. In summer is there possible swimming next to the Hotel Korinek.
---
Protected landscape area Jizera mountains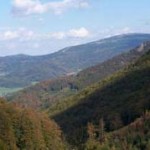 Jizera mountains are made from granite. It caused creations of various rocky formations. There mainly grows up needleleaved trees. For its natural wealthy, mainly ro rare pet-bogs, were Jizera mountains proclaimed as Protested Landscape Area, At the beginning of 20.century there wera built outlook-towers, that are symbols of Jizera mountains.
---
Black small lakes
The natural reservation. Whole extent is 66 hectares.
---
Jizera
The second highest top of jizera mountains (1122 meters under the sea). In the top there is large rock and beatiful view of whle Jizera mountains. In the surrounding there is natural eservation called Wildwood of Jizera.
---
Failuring Dam
In 1916 broke Dam on the river White Desná.Water flooded whole city Desná. 62 people died, 33 houses were destroyed, The failuring mole still stand. In underground stole there is home of bats in winter.
---
The peat-bogs of Jizera

National natural reservation in the valley of the river Jizera. There grow-up dwarf pine, juniper, spruce, birch. This is rarest peat scientific of Jizera mountains.
---
Winter pastime activities – ski slopes, snowboard a crosscountry skiing
In the surrounding of Kořenov there are lots of traces for crosscountry skiing and ski slopes. For snowboarders there are over the 3 snowparks.
Harrachov
Ski areál Čertova hora – 5 sjezdových tratí
Ski areál Zákoutí – 3 sjezdové tratě
Ski areál Amálka – 1 sjezdová trať
---
Paseky nad Jizerou
Ski areál Paseky – 10 ski slopes include snowpark
Ski areál Pizár – 5 ski slopes include snowpark
---
Rejdice
Ski areál Rejdice – 5 ski slopes include snowpark
---
Ski areál U Čápa – 4 ski slopes